This post details my process through Module 11 of my BA in Video Game Digital Art in Birmingham City University.
Melissa - Generating a Metahumans Basemesh
Much like my process with Edie, I began with a base mesh from Metahuman Creator.


Melissa - ZBrush Sculpting
I took my base mesh into ZBrush for refinement. I noticed that whilst Metahuman Creator had a large body type available, it was difficult to add weight to the face to reflect the body size. Thus, I made a lot of changes to the face of the base mesh to ensure that Melissa looked cohesive as a whole.
I also altered the body to reflect how it would look wearing jeans, as they would pull in around the stomach. This was important to generate clothing well later on.
I felt more comfortable with adding skin details on Melissa, as I had already practiced whilst creating Edie. It was here that I realised that although Melissa was originally a stretch goal, she would likely be produced to a higher standard simply because I had learned from the process of making Edie.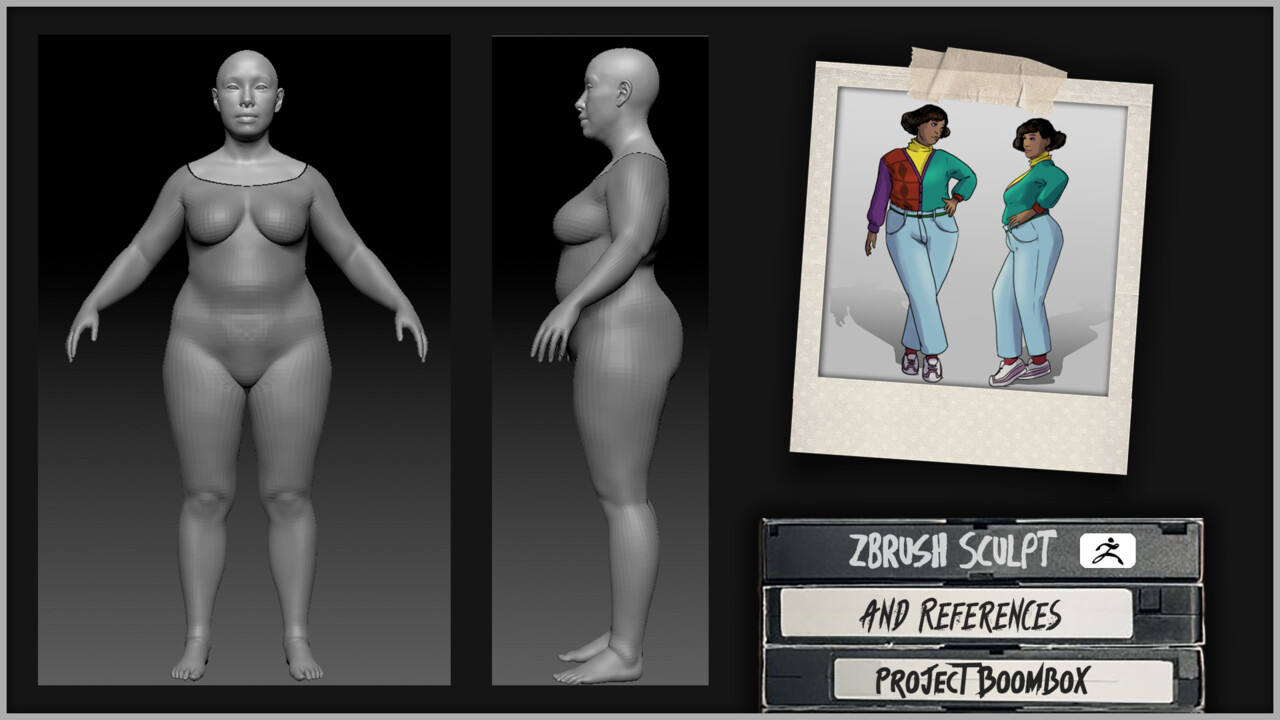 Melissa - Marvelous Designer
I took Melissa into Marvelous to create clothing. I felt more confident in the process this time, but realised that as the jeans are over the top of her other clothing, I would need to create the jeans in full and with as much accuracy as possible. This was a lengthy process, but I am pleased with the result.
When looking at cardigan patterns of the era, I found that Dolman sleeves, with characteristic deeper cut arm holes, were popular. I conferred with my team to see if they were comfortable with adjusting the concept and they were positive about the proposal.
My main inspiration was the following pattern:
Tillyandthebuttons.com. 2021. Make It Simple: It's the Bertha (Lovely Bertha) Cardigan!. [online] Available here [Accessed 29 July 2021]. 
Melissa - Hair Creation
I planned on using the same Blender Hair Tool addon to create Melissa's hair, but after attempting to use the same process, realised it would be very difficult to create her hairstyle effectively.
I looked into other options, and found that hair particles could work. I first tried creating a groom in Blender, but again, found I could not get the results I wanted.
Next, I found a workflow that involved sculpting hair segments in ZBrush, and aligning hair guides along those segments to create a groom using XGen in Maya. Whilst the process worked, I yet again could not create the style that I wanted to the standard I desired. At this point, I discussed concerns with my team that the particular style I had concepted was not something I could do with my current skillset to a standard that would look good in the cinematic. I rethought Melissa's hairstyle using my previous research, and found a style that worked and that was possible to use in Unreal as an Alembic Groom.
Below, image 1 is my initial attempt using Hair Tool to generate hair cards. Image 2 is my XGen groom, and image 3 is the altered hairstyle we agreed on.


Melissa - Texturing
Melissa's bright, fun clothing was a pleasure to texture. I again focused on fidelity, and tried hard to get the textiles looking realistic.
For her skin, I wanted her to look like she cares about her appearance more than Edie, with more refined makeup. I imported my cavity map from my ZBrush high poly sculpt to use as a height map for the extra skin detail.
With both of the characters ready, it was time to set them up in engine.